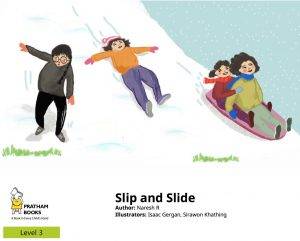 Slip and Slide – A tale of friction – Seven sisters play in the snow, slipping and sliding, but when they try to get back in the house they can't get back up the slope. This book explains the concept of friction by way of a story that is easy to remember.
Here are the words that are related to friction which are used in the story.
Grip, Slip, and Slide.
Sample text from Slip and Slide – A tale of friction
Look, it snowed last night!
As the sun rises, seven sisters wake up in their house.
"Come, let's play," Parvati says.
"Are we going to slide down the slope?" Chiya asks.
"YES!" yells Resam.
Parvati is first.
She sits on her snowboard. "Ready. . . One, two, three, GO!"
Parvati pushes with her hands. She slides smoothly down the slope. "Wheeee!" she shouts, giggling.
<End of sample>
Read the full book by selecting the buttons below the post.
This book was brought to us by Pratham and their Storyweaver platform,
Read more books from Pratham below: