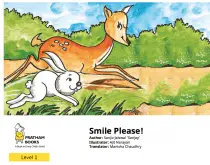 Smile Please – An endearing short tale about a little fawn running too fast. A great story for very young children, and the simple repetitive text is suitable for those learning to read. Another beautiful creative commons book from StoryWeaver and Pratham.
By: Sanjiv Jaiswal 'Sanjay', Ajit Narayan, Manisha Chaudhry
Text and Images from Smile Please
A fawn was racing in the forest.
He was ahead of the rabbit.
<end of sample>
See more Books about Animals below