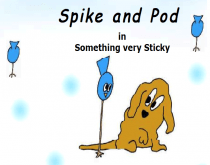 Spike and Pod find something very sticky, and get stuck. How will they get out? And who leaves sticky messes for Spike's and Pod's to get stuck in anyway!? A short picture book suitable for young children and children learning to read. One of a series of free public domain books.
By: Tony J Moon
Exert:
"Ahh…" shouted Pod
"I'm stuck on something!"
Page 1
"Let me see." said Spike
Sticking his paw in the substance.
Page 2
See more of these books below