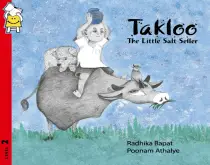 Takloo the Little Salt Seller – Takloo solves his parents problem with some entrepreneurial spirit. A beautifully illustrated story with a lesson and some insight into Indian culture. This book is published and licensed by Pratham books under the Creative Commons Share Alike Attribution (CC-BY-SA) License.
By: Radhika Bapat and Poonam Athalye
Text and Images from Takloo the Little Salt Seller
Takloo was a little boy from Anjarle, a small village in the farm far west if India.
If you went further west, you would be a fish in the ocean.
Anjarle was beautiful it has many trees.
It also had many squirrels. Squirrels love nuts and Anjarle had many nuts, even betel nuts.
<end of sample>
See more of these books below