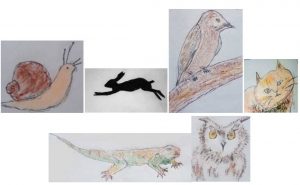 Teacher Owl's class is full of animals. Teacher Owl is teaching them important lessons, but all of the animals seem to have an excuse for not having completed their homework. All except one that is. Snail might be slow but he's determined to keep his focus and complete his responsibilities. A fun children's story with animals, which teaches a lesson about focussing on your responsibilities.
By: Frank Meintjies
Sample Text From Teacher Owl's Class
They were all gathered in the classroom. The learners sat on two logs under a blue sky with flecks of white cloud. It was not far from a stream. Teacher Owl looked at the class.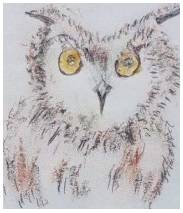 Snail looked left and right on her log. She was just trying to see what Miss Owl saw. There was Hare, Leguaan, the Honeyguide and Daliso the cat. "Learners", said Teacher Owl, to the class, "Settle down. I know it's nearly the end of the school day. I want to give you your homework for tomorrow. It's about knowing where you and your family come from."
Teacher Owl explained what they needed to do. She usually tried to make sure the learners understood everything. She wanted to tell them one more time, so they would remember. But some of the learners were already sliding off the logs to go home. "Goodbye," Teacher Owl said. "Have a safe journey home". Snail was still on the log. She wondered if anyone even heard Teacher Owl say goodbye.
***
The next day, in the morning, the learners gathered in the class. Daliso the cat
arrived just as everyone was saying: "Good morning teacher". Then they sang one of their favourite songs:
"We are the learners from the valley We like to learn
We are the learners
It's our turn"
"We the learners of the valley do 'words' and 'sums'
for us learning and passing
is so much fun."
Approximate Reading Time: 10-15 minutes, Words 1076
See more books about Animals below
See more books for Children below
---
Sponsored Links:
Note – if you sign up through these links, it doesn't cost you any extra, but FKB receives a small donation, which helps us with our project to buy more FREE Hardcopies   for kids who need them
All our posts are checked by Grammarly, the FREE online grammar checker (We still receive a donation even if you only sign up for the free account :-):