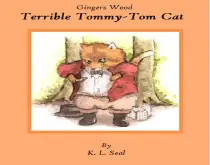 Terrible Tommy Tom Cat is threatening the inhabitants of Gingers wood, how will Benny Badger, Tyler No-Tail Mouse and the rest of the animals scare him away? Find out more in the third tale in the series from Kelly Seal.
By: Kelly Seal
Sample text from Terrible Tommy Tom Cat
I remember when I was small and visiting Benny Badger's sett in Gingers Wood one morning. Gingers Wood was visited by a very unwelcome cat, who had a very awful urge to hunt the poor mice of the Wood, but not to worry, all was well children, Benny helped to save the day again, and this is how …
I was sitting in a small arm-chair, by a warm fire, in the dusty and small but comfortable sett, watching Benny pouring some blackberry tea. I often borrowed books from his library of badger history books in those days and was just about to ask if I could take a couple home with me that evening, when suddenly Tyler rushed in from under the wooden front door.
"OH NO no no no no !"
He scurried quickly back and forth and spoke with a worrying panic until Benny asked :-
"What on earth is wrong Tyler ?"
"A CAT ! There's a cat, here in this wood."
He jumped up onto my lap and told us what had happened that morning :-
"Tommy Tumble Mouse and I were taking our morning stroll through the wood when we were suddenly dived on, he tried to catch us but we got away luckily, we stood back and watched him put Tommy's shoe that had been left behind inside his coat."
"But there where other items there, shoes, socks, jumpers, what he has collected over time, he is a mouse hunter, and he won't leave this wood until he has found every single mouse".
"It's alright Tyler, I will think of something, but in the meantime you wait here I am going to fetch the other mice, I will hide them in my wheelbarrow under a sheet so they are not discovered".
Benny told him.
"Be careful Benny,Tommy and I followed him and watched him through our binoculars from a distance".
"He was sharpening his claws, standing next to a boiling pot ready to cook with, he was very frightening".
Benny then put on his little coat and headed out with his wheelbarrow, he returned soon enough however.
<end of sample>
See more books about animals below