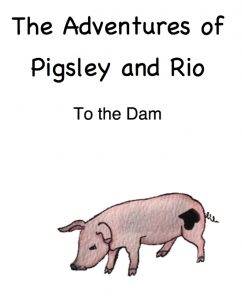 The second book in the Pigsley and Rio series, Pigsley and Rio race to the dam to cool off.  They meet a beautiful bird and Pigsley gets himself in a pickle.  Join Pigsley and Rio as they learn more about their new feathered friend and the importance of water safety.
Sample Text from Pigsley and Rio – To the Dam
The sun brightened the early morning sky, waking the animals on the farm.
Pigsley, the pig, trotted out of the barn where he slept wondering what adventure he should go on.
He headed in the direction of the cottage, where the people lived, hoping to meet his best friend Rio, the dog.
As Pigsley passed under the big tree, lots of tiny leaves rained down on his head. At first he was confused.
"Raining leaves?" he thought. "How odd!"
He looked up and saw the branches blowing in the wind:
this way,
that way,
every which way.
And the pig started dancing.
<End of Sample>
Read the full book by selecting one of the buttons below the post.
Read more books about animals below