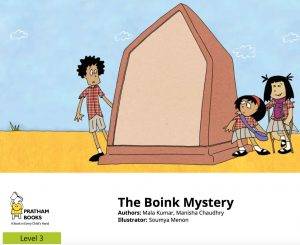 The Boink Mystery – On a school expedition, Aman finds more than he's bargained for; A strange Boink Boink sound comes from a visitor from another planet, find out more and learn lessons about keeping our planet clean from this intriguing space alien.
Sample Text from The Boink Mystery
Aman was sure he heard it.
BOINK BOINK BOINK!
He was standing near the Samrat Yantra, the world's largest sundial, at the Jantar Mantar Observatory in Jaipur. Close to where his cousin Razia stood, he could see something that looked like a gadget from which the sounds seemed to be coming. A small, squiggly object with what appeared like numbers and a meter and a needle that flickered wildly.
"Razia, stop digging your nose," he whispered to his little cousin. "And listen to that!"
Razia turned around and looked at him with her big eyes, her nostrils flaring as she dug deeper.
BOINK BOINK BOINKKKKK!
Aman and his schoolmates were on an excursion from their school in Tonk.
Jantar Mantar was built around 1738 CE by Raja Sawai Jai Singh. It is a treasure house of instruments designed to measure time and observe the movement of heavenly bodies.
<End of Sample>
Read the full book on the buttons below the post.
This is another great book from Pratham and their Storyweaver platform,
Enjoy more of these books below: