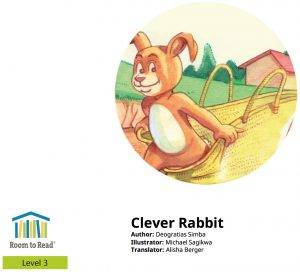 Clever Rabbit wants to see the world outside his hutch. He devises a plan to get out. Once outside there are many dangers he didn't count on, a dog, a lion, he devises a plan to get back inside. Does the Clever Rabbit learn a lesson?
Author: Deogratias Simba, Illustrator: Michael Sagikwa
Sample Text from Clever Rabbit
It was evening. Cows, goats and sheep were returning to their sheds. The farmer made sure they all returned home safely.
The clever Rabbit was awake inside his hutch. He was thinking, "I want to explore the outside world." The other rabbits were dozing.
The door to their hutch opened. The farmer came in. It was meal time for the rabbits.
<End of Sample>
Read the full book by selecting the buttons below the post.
This book was brought to us by Room to Read.
See many similar books below: