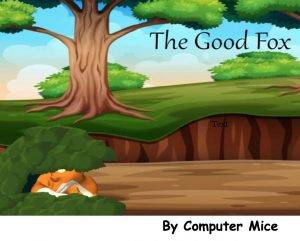 The Good Fox is a fable about a fox who succeeds through kindness. It reinforces how doing good is rewarding and being kind to others is important. The book also has lots of fun repetition so can be suitable for children learning to read.
Sample Text from The Good Fox
Fox awoke and she was very hungry. She wanted some food for her dinner.
She walked through the forest to go to the town. Many stores in the town had food. She needed to find a store with food. She met her friend, Crow. He was very hungry, also.
<End of page 2>
Download the full book on the buttons below the post.
See this and many other books by the same author with interactive literacy games and quizzes here: https://storage.googleapis.com/computermice.org/MICEBooks/home/start.htm
Read along with the animated video of this book here: