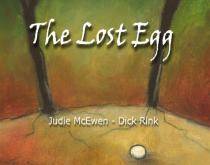 The Lost Egg – A wise old owl finds a lost egg, and wonders, whose egg it is. A few animals claim the egg to be theirs but the owl knows better. A beautifully illustrated story, with lots of interesting lessons.
By: Judie McEwen – Dick Rink
Text and Images from The Lost Egg
Owl had just awakened from his noon day nap, when he
heard a strange sound. It was a THUMP!
"Whooooo was that?" he wondered. He looked around from
his perch in the trees. No one was in sight! "Whooooo, " he asked.
And then he looked with his sharp owl eyes and saw on the
floor of his forest a large white egg! "Whoooo," he asked
again, but no one answered, so Owl flew down to take a closer look.
It was indeed an egg, but where had it come from?
<end of sample>
See more books about animals below