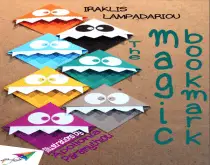 The Magic Bookmark – A student dislikes school and reading so much he gets a rush just by hearing those two words. But one day he has to produce something handmade for a school assignment. He asks his mother for her help and she advises him to make a bookmark.The student has so much fun making the bookmark, that at the same time he develops an interest in books. His reading is slow and timid but he uses the bookmark he has made. The bookmark (magically) moves on to the next pages and before he knows it on to the next book and the next book and the next book. Another beautiful story from Saita Publications, translated for the original Greek version.
By: Iraklis Lampadariou, illustrated by Apollonia Paramythioti
Text and Images from The Magic Bookmark
"Not again! Let me sleep a little more… Why do you
want me to say this every day, over and over
again? Nothing has changed. I don't want to go to
school today, either. And why does it always have to
be your way?
Not another day with books, notebooks, lessons,
problems, pencils, pencil cases, bells and reading!"
said Jason to his mother. It was yet another
morning call. Every school day started like that for
Jason or God forbid the planet would go wrong.
For Jason school was his worst nightmare ever.
There were times you would think he could get a
rush all over his face only with the sound of the
word "school".
As much as he liked chocolate, candy, ice-cream and
french fries, at the same degree he disliked school.
He would rather not see his favourite friends for a
whole year than go to school for a day. And if his
attendance was not compulsory, he would not set
foot in there.
<end of sample>
See more of these books below