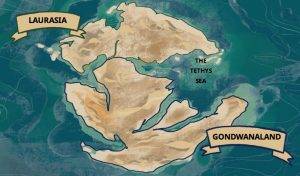 The Mighty Tethys Sea explains how the continents split apart, from the mighty Gondwana and the mighty Tethys sea, to what they are now, and how the Himalayas were formed. Discover how once there were seas where there now are mountains, and how it all changed into the shape of the earth today.
Author: Juvena Jalal, Illustrator: Sarthak Sinha
Sample Text from The Mighty Tethys Sea
Here are some fossils.
Fossils are the preserved remains or traces of a living organism, plant or animal.

They tell us what life on Earth was like hundreds, thousands, or even millions of years ago!
This is the fossil of a creature called an ammonite.
Ammonites were squid-like creatures that lived in the sea 400 million to 65 million years ago.
Paleontologists and archaeologists are scientists who dig up the ground to find fossils.
When they dug in the Himalayas, they found lots of ammonites.
But how did the fossils of sea creatures end up on the tallest mountains in the world?
<End of Sample>
Read the full book by selecting one of the buttons below the post.
This book was brought to us by Pratham and their Storyweaver platform.
See more books from Pratham below: