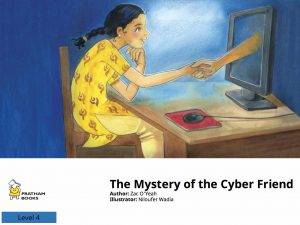 Shree loves using her computer for all sorts of things. One of the things she does is to chat with friends. When she has a tiff with a group of friends, she receives a new request out of the blue, and decides to accept. But after some time she senses this new friend is not being all that truthful. Find out what happens in this cyber-thriller.
Sample Text from The Mystery of the Cyber Friend
Shree lives in an apartment in a small town called Katpadi Junction.
Amma works in a jewellery shop. Appa works as a taxi driver. They want her to learn computers. So they are pleased that she likes to use it.
The computer is Shree's friend. She always finds time for it. She uses it to find information for school projects and send e-mails.
Shree's aunt also stays with them. Everyone calls her Akka. Most of the time, she naps in front of the TV that shows her favourite old films. She gives Shree hot dosas stuffed with spicy noodles.
After tiffin, Shree likes to play. Not the traditional games that Akka likes to play, with stones and shells. Shree likes to play games on the computer.
The computer doesn't just have games. It also has FriendsNet.
Shree joined it two months ago, on her thirteenth birthday. After snacks and tea, she chats with her school friends through FriendsNet. They tell each other what they did since they met last, on the school bus.
Shree says that she got extra sugar with her tea. One friend says, "That you get every day."
Shree says, "And I also got mutton-flavoured noodles with my dosa."
Another friend teases, "Do you do anything other than eating?"
<End of Sample>
Read the full story by selecting one of the buttons below the post.
This story was brought to us by Pratham's Storyweaver platform, if you enjoyed this story, see more stories from Pratham below.