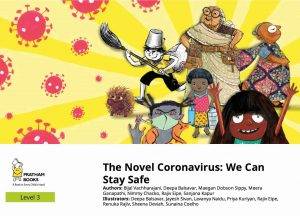 We cannot have too many reminders of how to behave to protect ourselves against the Corona Virus. Herewith is another great children's book that helps to explain in a storylike way the different ways to prevent infection.
Sample Text From The Novel Coronavirus: We Can Stay Safe
The Novel coronavirus and COVID-19
"Coronaviruses are a large family of viruses which may cause illness in animals or humans. In humans, several coronaviruses are known to cause respiratory infections ranging from the common cold to more severe diseases. COVID-19 is the infectious disease caused by
the most recently discovered coronavirus."
World Health Organization (WHO)
Staying Safe and Healthy
COVID-19 is affecting many of our lives. But there are doctors, nurses and healthcare professionals, as well as providers of essential services, who are helping us stay safe. It's a difficult time but we are all in this together. Some of your best friends are here to tell you the best practices that will help you take care of your health, and show you how to help others. Be smart, stay safe, and support each other.
When in doubt, ask WHO
Visit https://www.who.int/emergencies/diseases/novel-coronavirus-2019 for more information.
Ammachi's Amazing Advice
Written and illustrated by Rajiv Eipe
Sooraj and I are staying safe at home, and we hope that you are too. Especially if you're feeling unwell.
If either of us has a fever, a cough or difficulty breathing, we will first call up our doctor or the government helpline and then follow their instructions. Only a doctor can tell if what we have is COVID-19.
I felt a little sick yesterday, but only because I ate too many uniappams.
<End of Sample>
Read the full book by selecting one of the buttons below the post.
This story was brought to us by Pratham's Storyweaver platform, if you enjoyed this story, see more stories from Pratham below.