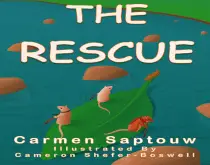 The Rescue – Rufus, a brave little mouse, returns from an errand to find his home destroyed and his family kidnapped. He then takes on a journey to rescue them. On the way he is aided by many animals and learns the importance of not only teamwork, but courage and perseverance.
By: Carmen Saptouw
<Sample Text from Page 1>
Rufus was a young mouse who lived with his mom, dad and little sister in a beautiful home in
the woods.
It was a peaceful place and they lived happily together, but then it all changed.
One morning Rufus went to pick some berries for lunch, but on his return he discovered
the home he once knew was ruined… and his family was gone. Poor Rufus broke down in tears,
afraid that he had lost his family forever, but then he heard a voice from above.
"Don"t cry little mouse, your family is still alive." He looked up and saw a sparrow.
"The farmer destroyed your home and took your family," she continued. "Do you know where
he took them?" Rufus asked wiping his tears. "My first guess would be to his farm," answered
the sparrow. Rufus was relieved that his family was alive, but he knew this would not be the case
for too long. "I have to save them! Which way did they go Sparrow?" asked Rufus. "He went in
that direction," she said as she lifted her wing and pointed to her left. "The farmer is dangerous, I
do not recommend that you take this journey alone," the sparrow continued. "Thank you," said Rufus
and he ran in the direction shown by the sparrow.
After running for quite some time Rufus felt tired and his legs grew heavy. He looked at the road
ahead; it stretched for miles in front of him. I can"t stop now …I have to keep on going, he
thought. He was so weary that he didn"t notice the hole in the road; he stumbled and collapsed
from exhaustion. Suddenly something cool dripped down his whiskers. He opened his eyes and
saw a beautiful girl mouse. He looked at her in confusion.
"There is no need to be frightened. My name is Anna and I thought you might like some water," she said
and handed him a leaf filled with water droplets.
<End of Sample>
See more of these kind of books below