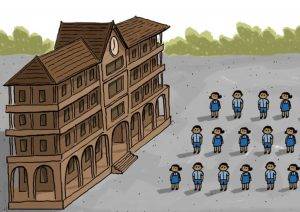 At The Right Way School students do things the right way. They all stand in line and speak only when spoken to. Until one day a little girl comes along that doesn't know the right way. Find out what happens to The Right Way school.
Sample Text from The Right Way School
The Right Way School was a brown building in a grey compound. Sometimes, the grey compound was filled with straight rows of students in dark blue uniforms.
The Right Way School believed that there was a right way to study
a right way to dress
a right way to stand in rows.
This is what it taught its students.
More than anybody in the school, Mrs Gambhir believed in doing things the right way.
Mrs Gambhir was the class teacher of Std 3. In Hindi, Gambhir means serious. It was the perfect name for her.
Every day, Mrs Gambhir would write with white chalk on the black board.
One Thursday afternoon, she wrote:
The root of a plant is buried under the soil and takes in water and nutrients.
"Now copy and learn," she said.
<End of sample>
Read the full book by selecting the buttons below the post.
This book was brought to us by Pratham and their Storyweaver platform.
Enjoy more books from Pratham below: