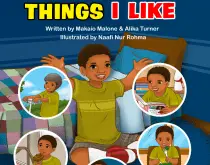 Things I Like – A short story about a 5 year old boy Makaio and all the things he likes. The book is perfect for learning to read, including a sight reading list at the front and questions at the back.
By: Alika Turner
Text and Images from Things I Like
Hi my name is Makaio and I like lots of things, come on I'll show you.
Book Activity
What does Makaio like doing with his mom?
What is Makaio's favorite vegetable?
Who does Makaio like dancing to silly music with?
Who does Makaio like to play catch with?
What is the name of this book?
<end of sample>
See more books for Toddlers below