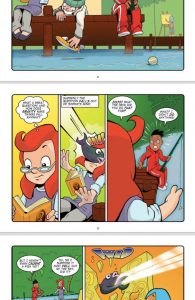 In Thunderbolt Kids Science Comic Books Grade 5, we learn about the adventures of the Thunderbolt kids in a comic book style way. These books teach science and are perfect for struggling and reluctant readers since the texts are short and fun. This book is Grade 5, there are other books available for science grades 4, 6, and one for Thinking Skills.
Stories in Thunderbolt Science Comics for Grade 5
1. Fish and Frogs – page 7
2. The Forbidden Beach – page 28
3. The Game of Death – page 49
4. The Balloon Bet – page 70
5. Philosophers Stone – page 91
6. Diamond Deception – page 112
7. The Volcano – page 133
8. Snakes Alive – page 154
See more Science books in our Science Category. 
See the other science comics and more books from Siyavula here on free kids books in our Siyavula Category. 
See the Siyavula science and maths range here: https://freekidsbooks.org/maths-and-science-textbooks-for-high-school-by-siyavula/