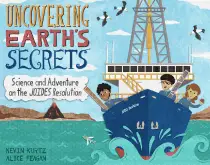 Uncovering Earth's Secrets – A book about oceanic research, featuring the research ship JOIDES Resolution, written in rhyme with beautiful illustrations. This nonfiction eBook was written for us by award-winning children's author Kevin Kurtz (http://kevinkurtz.homestead.com) and illustrated by award-winning illustrator Alice Feagan (http://alicefeagan.com). It is written for children and classrooms in grades 1 to 4. The eBook was created through a National Science Foundation grant and is available for free in both a PDF version and an interactive iPad version. To learn more about deep seafloor research and to find a link to download the free interactive iBook version of this book that can be read on iPads and Macs, visit http://joidesresolution.org/node/2998
About the Author: Kevin Kurtz
Kevin writes nonfiction books for children, he uses his expertise and experience working in a marine biology lab, marine biology research ship, a science museum and many more in his past career.
He inspires students and teach them about reading by providing live visits and virtual interactions.
About the Illustrator: Alice Feagan
A children illustrator based on Colorado she loves the outdoors and enjoys hiking, swimming and fishing. She loves art and drawing for kids and her work was greatly influenced by the Western North Carolina folk art. Tons of her works are featured in books, magazines, advertisements and museum.
See more books from the Author below