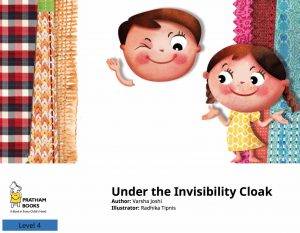 A brother and sister wonder if there is such a thing as an invisibility cloak. Their search for information leads them to learn about all sorts of fabrics from linen and cotton to high tech fabrics, even a real potential invisibility cloak.
Sample Text from Under the Invisibility Cloak
Arnav and Tanisha loved to play hide-and-seek. Every evening, this is what they did with their friends. One day, Arnav said to Tanisha, "What fun hide-and-seek would be if I could disappear and no one could see me!"
They decided to ask Mamma and Papa if it was possible to become invisible.
Papa smiled and said, "That sounds like science fiction."
Mamma designed curtains and cushion covers for people's homes and knew a lot about different kinds of cloth. She said, "I think scientists are working on fabrics that could make the wearer invisible."
"Ooh, you mean like a real invisibility cloak?" asked Tanisha.
The children decided to visit the library to find out more about these new-age fabrics.
<End of sample>
Read more on the buttons below the post.
This is another great book from Pratham and their Storyweaver platform.
Enjoy more of these books below: