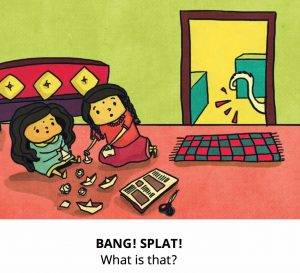 In What Are These For? young children can be entertained by the simple rhyme. Several things fall down from the shelf and the children ask what are these, Ma answers, what each utensil does. Perfect for new readers with the simple text and a word list at the end.
Author: Bhavini, Illustrator: Chaaya Prabhat
Sample Text from What Are These For?
BANG! SPLAT!
What is that?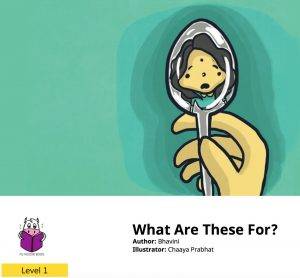 A big mess! Who did this?
Ma, ma come and see, Kitty Cat is on a spree.
On the floor,
all around,
shiny things
have fallen down.
"Ma, ma
tell me, please,"
"Ma, ma
What are these?"
<End of sample>
Read the full book on the buttons below the post.
This book was brought to us by Ms Moochie Books via Pratham's Storyweaver platform.
This is a level 1 book from Pratham, meaning there are few words supported by lots of pictures.
See more books from Pratham and their Storyweaver platform here on FKB below: