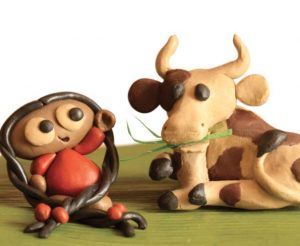 Who Is It is a cute beginner reader about animals. The book features. repetition and simple language, someone is making a funny sound, who is it?
Author: Kanchan Bannerjee, Illustrator: Pratyush Gupta
Who is Cute is made available in creative commons – CC-BY-SA by Pratham's Storyweaver platform.
Text from Who Is It
Priya hears a sound. Srrr… Srrr…
Who is it?
Priya runs out.
She sees the cow chewing grass.
No, it is not the cow that is making the sound.
Is it the monkey in the tree? No, it is not the monkey.
Is it the frog hopping in the grass?
No, it is not the frog.
Is it the deer jumping along? No, it is not the deer.
Is it the fish in the pond? No, it is not the fish.
Then Priya sees the elephant!
The elephant is rubbing its back against a tree.
Now Priya has her answer! Srrr… Srrr…
<End of text from Who Is It>
This book was brought to us by Storyweaver.
This book was made possible by Pratham Books' StoryWeaver platform. Content under Creative Commons licenses can be downloaded, translated and can even be used to create new stories ‐ provided you give appropriate credit, and indicate if changes were made.
To know more about this, visit https://www.creativecommons.org, or check out https://www.storyweaver.org, where you can create your own stories from many creative commons pictures, or upload your own pictures. If you do, please send them to us, that we can consider publishing them on FKB!
Another great and very cute beginner reader, available in creative commons from Pratham's Storyweaver platform, this is rated Level 1 by pratham.
See more books under Creative Commons category.
---
Sponsored Links:
Note – if you sign up through these links, it doesn't cost you any extra, but FKB receives a small donation, which helps us move towards our aim of
FREE Hardcopies!  
All our posts are checked by Grammarly, the FREE online grammar checker (We still receive a donation even if you only sign up for the free account :-):


This site is hosted by Bluehost:

Leave a comment (it won't be public) if you want help getting your own website cost-effectively.