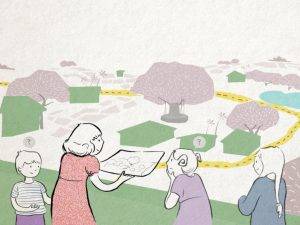 In Who's on Divya's Map Divya's cousin Ravi is arriving from another town so she decides to draw him a map to make it easier for him to find her house. Who does she include on the map along the way and how does she construct it? This book includes a basic introduction to cartography at the end.
Author: Rohan Jahagirdar, Illustrator: Smitha Shivaswamy
Sample Text from Who's on Divya's Map
On her first day of vacation, Divya woke up later than usual. It was going to be a happy summer.
Her cousin Ravi was going to visit her in Gajapur.
He lived in the faraway city of Cuttack.
'We'll play outdoors, ride cycles, swim in the pond, pluck mangoes… we're going to have so much fun,' she thought.
But Ravi was going to travel on his own for the first time. She had given him directions over the phone.
"Walk straight from the bus stand, straight, straight,
and then you'll see the pond, keep walking straight, then take a right… no, no, take a left and keep walking for about… hmm… three minutes… when you reach the post-office, take a left there…"
Divya was sure Ravi was confused. She was worried. How would he find her place?
<End of sample>
Read the full book on the buttons below the post.
This is another great book from Pratham and their Storyweaver platform,
Enjoy more of these books below: