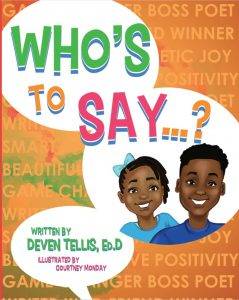 Who's to Say is the first book of affirmations in 'The Amazingly Affirmed' children's book series. This 33 page picture book for young readers is aimed to encourage them to have big dreams and aspirations. Through colorful illustrations and encouraging words, readers will journey down the path of possibility, and cheer themselves on along every step of the way. In the end, they will know that only they truly have the power to speak life over and into their future!
Reviews:
Reviewed in the United States on May 4, 2021

Verified Purchase

Very profound and necessary! This book is great for kids to shift the paradigm of how they view themselves from within. Being starts with belief! Thanks for this!

Reviewed in the United States on February 1, 2021

Verified Purchase

I LOVE this book. I read it with my first grade class and a little girl said, "I liked that book. I have a lot of big dreams too!" It opened the floor for an authentic discussion about all the possibilities and how nothing could hold them back.

Reviewed in the United States on March 13, 2021

I absolutely love this book! Such a positive message that every single child needs to hear. This book instills courage and confidence into our young ones, and teaches them that they can do whatever they set their minds to. Beautiful illustrations as well! Highly recommended.