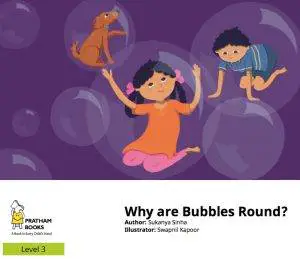 Manu and Maya want to make some bubbles, why buy a bubble kit when you can make your own, their Ma suggests. They make their own bubble kit and then get to wondering more, for example what if the bubble kit shapes were not round, would it produce square bubbles? What if they added some colour? This book explores all these questions and includes specific instructions for your own bubble kit.
Sample Text from Why Are Bubbles Round?
Twins Manu and Maya were on their way home from school.
At the traffic signal, they saw a man selling bubble-making kits. He dipped a plastic wand into a bottle, took it out and blew into it.
A stream of bubbles floated into the air. Some reflected rainbow colours.
"Ten rupees!" he cried out. The light turn
"Ma, can we buy a bubble kit?" said Manu as they had dinner that evening. Ma said, "You can make one at home. Why don't you try it tomorrow?"
<End of sample text>
Read the full book of Why Are Bubbles Round by selecting one of the buttons below the post.
This book was brought to us by Pratham and their Storyweaver platform, see more books from Pratham below.