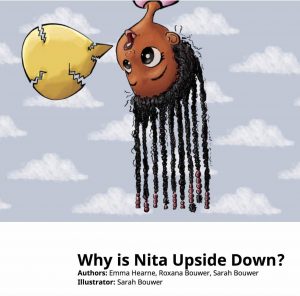 In Why is Nita Upside Down, a children's book about being different, we learn important lessons about the value of being proud of who you are and that everyone is different.
This book is created by Bookdash, a non-profit organisation dedicated to getting books into every child's hands.
By: Emma Hearne, Roxana Bouwer, Sarah Bouwer
Text from Why is Nita Upside Down – Children's book about being different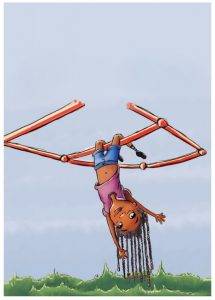 Nita's hanging upside down,
her long hair tickling at the ground.
The trees, the grass, the everything is all the wrong way round.
Her feet, they poke into the sky. Little Navi is walking by.
He says, 'I've seen you here before. You're upside down again! What for?'
Her feet swim lightly in the air. She tries to hide behind her hair.
'It's h-h-h-hard to t-t-talk', she says to him. 'I'm not the same. I don't fit in.'
Navi takes her by the hand.
He wants to help her understand.
They climb to Navi's look-out spot. From up here they can see a lot.
They perch and have a quiet stare at children playing here and there.
Those kids are not the same at all.
Abe's round.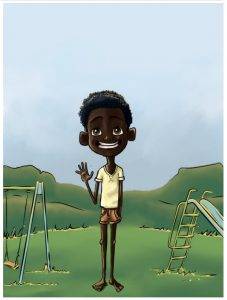 Chi's freckled.
Lala's extra tall.
BamBam's wild and must run free,
while Lulu reads quietly.
Look at Freya's crazy hair.
And Tim wears glasses everywhere.
And me, I am just skin and bone. And you are you. You're not alone.
Each human's sort of strange, you see.
That makes you just the same, like me.
This world is really one big game. To play, we can't all be the same.
Nita feels the right way round, thanks to the new friend she's found.
Upside down was never fun. Now she plays with everyone.
<End of excerpt>
About Book Dash 
Book Dash gathers professional creatives – writers, illustrators, designers, editors – who volunteer to create high-quality children's books that anyone can freely download, translate, print and distribute. Most of the work is done on a Book Dash day, when small teams work for over twelve straight hours, each producing a new book.
Why Book Dash?
Books purchased from publishers cost too much. In order to distribute more books for South African children, Book Dash participants work as publishers in a single day, having a book with no publishers mean the book will be a lot cheaper the only cost will be printing the books. With these, anyone can run sponsored prints and the finished books can be handed to children.
Every child should have a hundred books when they reach the age of five. that means handing down 600 million free books to South African children who probably could not afford to buy them, More children grow up not learning how to read and write well, and every day we lose more of these children. Let us not neglect these children and help them overcome poverty by first teaching them how to read and to enjoy the worlds that a book can open up.
Select the download or readonline buttons below the post to see the full book with pictures!
This book can be listened to and read along with in this lovely video with text clearly presented to match the words being read,
See more books from Bookdash in our Bookdash category.
See more books with values in our Values category
---
Sponsored Links:
Note – if you sign up through these links, it doesn't cost you any extra, but FKB receives a small donation, which helps us move towards our aim of
FREE Hardcopies!  
All our posts are checked by Grammarly, the FREE online grammar checker (We still receive a donation even if you only sign up for the free account :-):


This site is hosted by Bluehost:

Leave a comment (it won't be public) if you want help getting your own website cost-effectively.