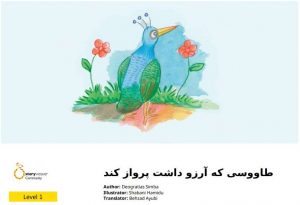 طاووسی که آرزو داشت پرواز کند – The Peacock Who Wished to Fly Farsi this is the tale of The Peacock Who Wished to Fly in Farsi, Tausi dreamed that one day he will be able to fly high and far like the other birds who mocked him for not being able to fly on different places to search for food. He collected feathers from other birds and sowed them together not realizing that he had become the bird with the most beautiful tail.
Author: Deogratias Simba Illustrator: Shabani Hamidu
Text and Images from طاووسی که آرزو داشت پرواز کند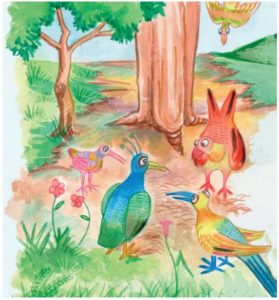 مهربان و فروتن بود. رنگین نام طاووسی بسیار
اما رنگین یک رویا داشت. او با دیگر پرندگان در آرامش زندگی می کرد\
او بجای دانه چیدن از روی زمین, میخواست به سرزمین های بسیار دور پرواز کند.
های طبیعت را از نزدیک دیده بتواند او آرزو داشت که خودش تمام زیبایی
یکن رنگین طاووس ها تا جاهای دور بخاطر دانه چیدن رفته نمی توانست
چه برسد که پرواز کند. یگان پرنده شوخ سر او ریشخندی می کردند. وقتی
.که به غذا پالیدن می رفتند, رنگین را تنها می گذاشتند
<end of sample>
See more books in Farsi below