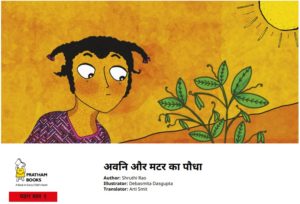 अवन और मटर का पौधा – Hindi version of Avani and the Pea Plant, this is an early biology book for children in Hindi. A story about Avani who was helping her Amma cook, while she was carrying a bowl of peas a single pea fell out of the bowl and manage to roll out of the door.
At the end of the book is a fun special activity for children where they have to plant a seed and make it grow as a plant, just like in the story where the pea grew pea plant.
Author: Shruthi Rao, Illustrator: Debasmita Dasgupta
Sample from अवन और मटर का पौधा – Hindi Story
एक दन, अव
न रसोई क मेज़ पर बैठ अमा को खाना पकातेदेख रही थी। अमा नेकुकर चढ़ाया।
"अवन! बेटा, ज़रा मटर देना।" अमा बोल
अवन रसोई क -सल सेसूखेमटर का कटोरा उठा लाई और अमा को देदया।
कटोरेसेमटर का एक दाना नीचे र गया। ना अवन और ना अमा नेइसे गरतेदेखा!
मटर मेज़ पर उछला, फ़शपर गरा … और मेज़ के नीचेलुढ़क गया।
च:क ब;ली नेउसेदेख -लया। उसनेउसे हलाया। फर धीरेसेपंजा मारा। फर उसन उसेचाटना चाहा।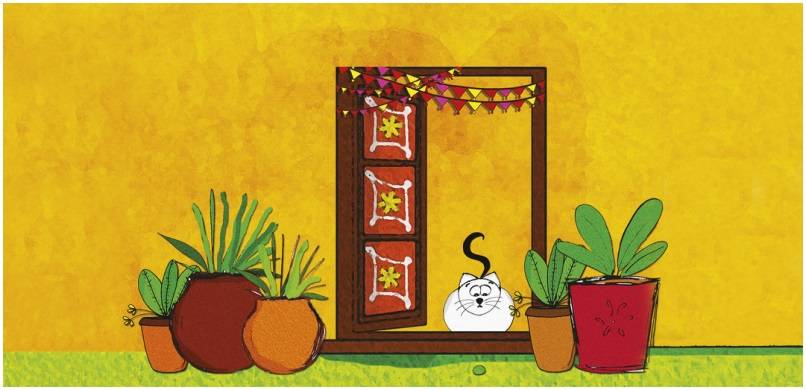 मटर रसोई के दरवाज़ेक ओर लुढ़का।
च:क नेइसे फर हलाया। वह लुढ़ककर बाहर चला गया… बगीचेमपच ग
खुद करकेदेख!
1. छोटेगमलेमएक बीज बोइयेऔर उसेरोज़ सचये।
2. अगर आप उसेअँधेरी और ठ[डी जगह मBरखतेहZतो :या वह बढ़ता है?
3. कई अंकुरत बीज व अनाज हमारेवाय के -लए बत अछेहोते ह। आपको कौन सी अंकुरत चीज़खानी अछI लगती ह?
end of अवन और मटर का पौधा – Hindi Story
अवन और मटर का पौधा English Version below:
Avani and her Amma are making food, a pea escapes their notice and rolls out the door, the story unfolds as the pea finds a way to grow into a pea plant. Try planting a seed for yourself in the activity at the end of the book.
See more books is Hindi Below