आग! आग! is the Hindi version of Fire Fire a story about Fire Safety. Mumbai is a whole new City for Ana it is a lot different from the quiet place she was used to in Goa. She misses a lot of things from her hometown especially her dog Mando. Ana comes along with her dad to deliver letters and parcels. There are a lot of different things that Ana does not know about, like the fire alarm box and the water sprinklers on the ceiling. But one day Ana along with her dad and the rest of the people inside the building are warned by a noisy alarm that is coming from the red box, she soon finds out what those are for and what to do during a fire emergency.
Author: Aditi Ghosh, Illustrator: George Supreeth
See also the English version of Fire! Fire! here on Free Kids Books.
Text from आग! आग! Hindi Story About Fire Safety
जब ऐना अपनेगोवा के घर सेर मुंबई नगर आई, वो बत उसाहत थी। पर साथ ही साथ उसेअपनेप!रवार जन" को छोड़़नेका  ख भी था। उसके चाचा, उसक दाद, उसके दो.त और सबसेयादा मांडो।
मांडो एक गंभीर क.म का कु था जो सारा 9दन बड़े़ ही आराम सेऊँघता रहता। पर जब कभी भी पड़़ोस मशाद- होती थी वो बुरी  रह सेचीखनेलगता था और तब तक चीखता था जब तक ऐना के चाचाजी वाइ@लन बजाना बंद ना कर द।
ऐना मांडो सेबेहद यार करती थी। उसेपता था क मांडो हमेशा उसक+ र करेगा अजनबय" और मुसीबत" से। और उसके  चाजी के बेसुरेवाइलन सेभी।
मुंबई एक बेहद शोरगुल वाला शहर है। पय" क चहचहाट, चचGक घंटऔर अपनेगाँव क आवाज़" क ऐना को याद आती। सफ एक ही ऐसी चीज़ थी Jजसक उसेबलकुल भी याद नहK आती और वो था उसके चाचाजी का वाइलन बजाना।
कभी कभी .कूल के बाद ऐना अपने पता केसाथ लोग" के घर MचNयाँऔर पासGल पचानेजाया करती थी।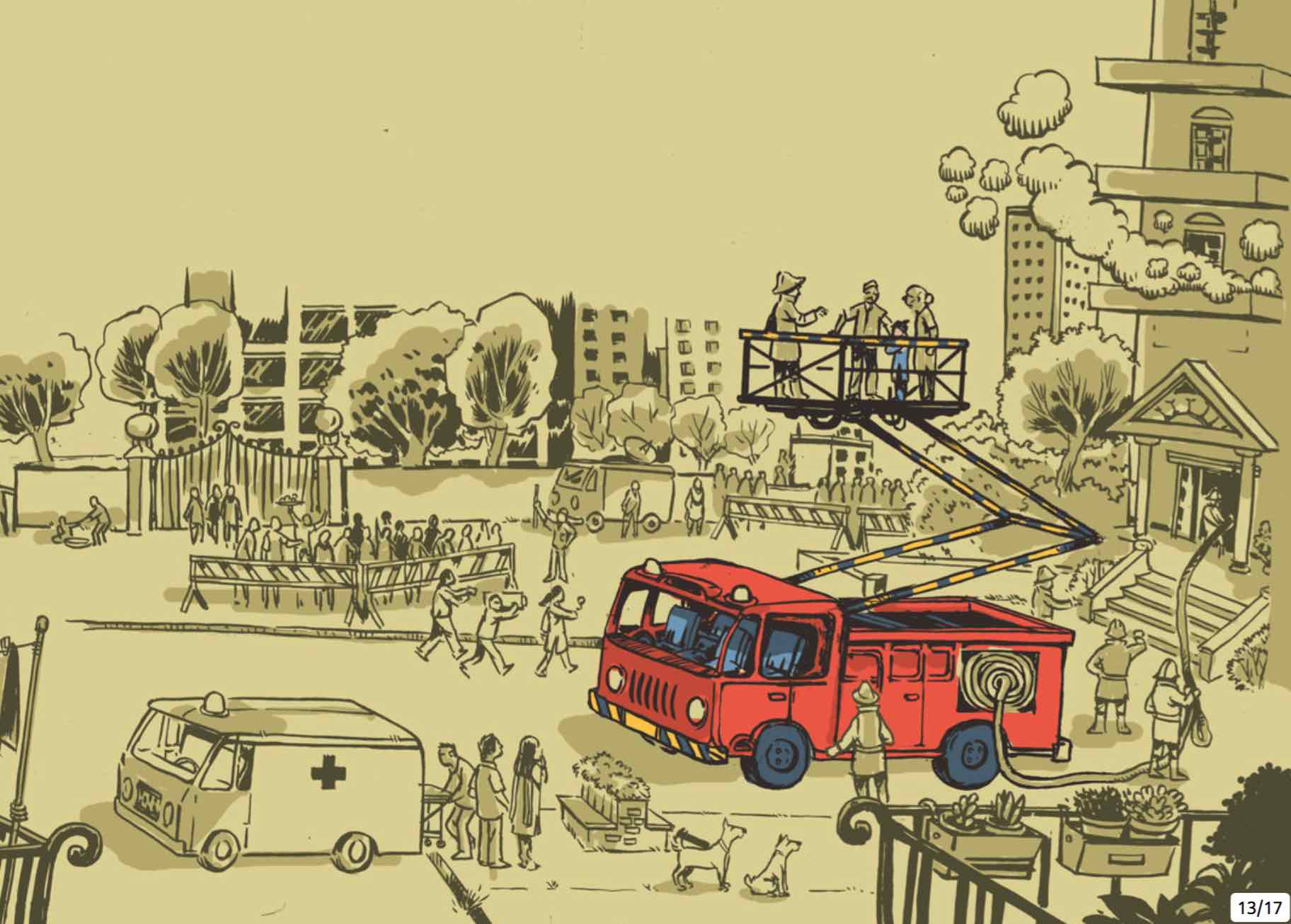 ऐना बड़़ी ही बेस सेलQट क सवारी का इंतज़ार करती। एक दन उसनेचुपकेसे@लQट केसारेबटन दबा दए। लQट का दरवाज़ा हर मंJज़ल पर खुला!
हर मंJज़ल पर अजीब सा दखनेवाला फुवारा लगा था। 'यहाँकौन नहाना चाहेगा?' वो सोच मपड़़ गयी।
<end of sample>
आग! आग! English Version below:
In Fire! Fire! – A story about fire safety. little girl Ana, after moving towns, goes to work with her father, there are lots of speakers and shower-heads in the building they visit, Ana wonders what they are. They soon find out when a fire alarm sounds. A story about what happens in a fire, combined with lessons on what to do in a fire at the end.