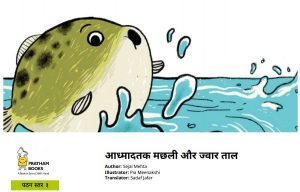 आध्मादतक मछली और ज्वार ताल – Whoop, Goes the Pufferfish Hindi: Little pufferfish is trapped inside a tide pool when the tide returns to the sea. Other sea creatures saw the pufferfish and told it to do not worry and you can comeback to the ocean once the tide returns. This story has lessons about high and low tide and how these tide pools are created.
Author: Sejal Mehta, Illustrator: Pia Meenakshi
Text and Images from आध्मादतक मछली और ज्वार ताल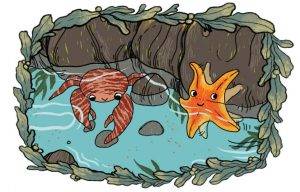 मुंबई के एक चनी तट पर धूप सेचमकती एक सुंदर सुबह ह। नन वार का समय ह, वार ताल म चार! ओर शांत छाई ई है।
एक गलु बी केकड़ा जसका नाम पोसलेन है, खानेक तलाश म है। एक नारंगी तारामीन धीर-ेधीरेअपनेनलक जैसेपैर! क मदद सेआगेबढ़ रही है।
मगर ठहरो।
या यहाँसचमुच सब शांत ह?
अरेनह! एक नही पफरफश यानी आ;मादतक मछली वार ताल म आ फँसी ह।
<end of sample>
Read the full book by selecting one of the buttons below the post.
आध्मादतक मछली और ज्वार ताल English version below:
Read the English version using the above link.
See more Hindi stories below