एक, तीन, पाँच, मदद! मदद! – प्रारंभिक गणित One, Three, Five, HELP Hindi –  An early math story that is funny. Our main character coconut beetle loves to count, while he was out counting he accidentally falls on his back. He needs helps from his friends, and count how many were helping him along the way. The concept of odd and even numbers is also present while introducing different kinds of insects.
Author: Kuzhali Manickavel, Illustrator: Sonal Gupta Vaswani
Text and Images from एक, तीन, पाँच, मदद! मदद! – प्रारंभिक गणित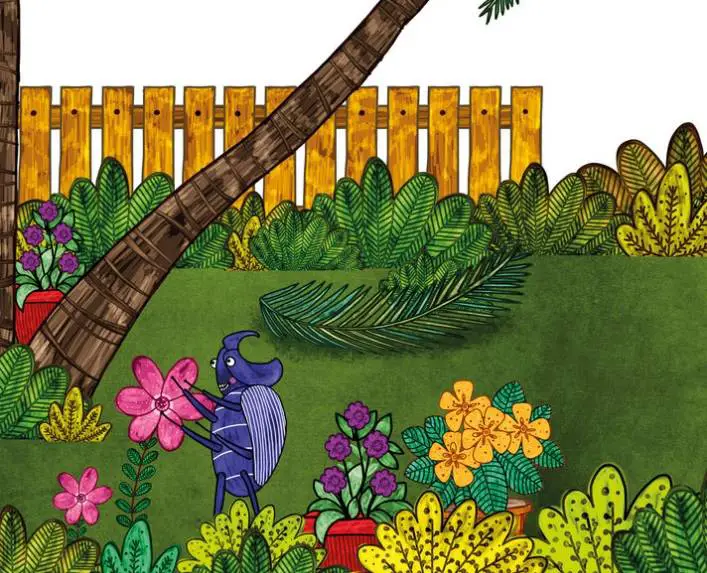 नारयल के पेड़ वालेमोटे-से भँवरेको गनती बत पसंद है! वह फूल! क" पयाँगन रहा ह! एक, दो, तीन, चार… ठप!
"अरेओ गबुरैला बहन!" उसने ज़ोर सेपुकारा। और वनती करतेए कहा, "या तुम मुझेसीधा कर दोगी, म5पलट गया ?" गबुरैलेनेज़ोर सेधका दया, और ज़ोर स, े बत ज़ोर स!े लेकन वह उस नारयल के पेड़ वालेह-कभँवरेको पलट नह: सक"।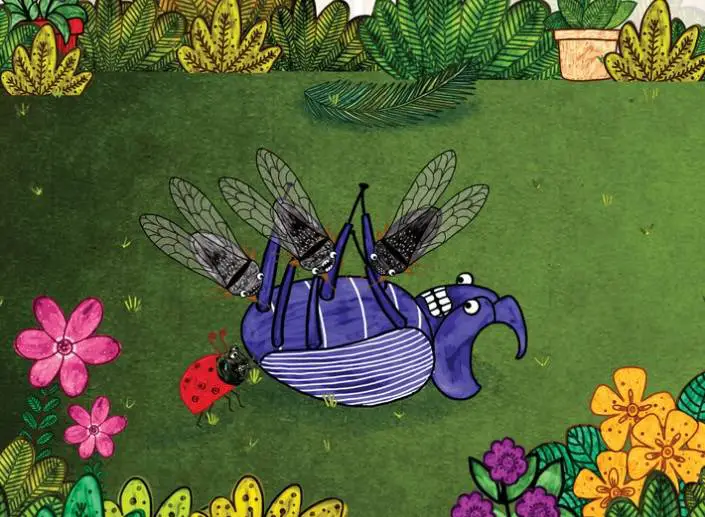 गबुरैलेने;चला कर कहा, "झ:गरुो आओ!" तीन झ:गरु उसक" मदद करने के लए आगेबढ़े। फर नारयल वालेमोटूभँवरेनेअपनेदो?त!
को गनना शु कया, "एक, दो, तीन, चार! चार तो एक सम संया ह!ै" चार-चार क"ड़! नेपूरी ताक़त लगाकर धका दया। लेकन वह सब ;मलकर भी नारयल वालेभँवरेको पलट नह: सके! 1+3=4
end of sample – प्रारंभिक गणित
Read the full book by selecting one of the buttons below the post.
एक, तीन, पाँच, मदद! मदद! – प्रारंभिक गणित English Version below:
Read this book in English on the above link.
See more stories in Hindi below