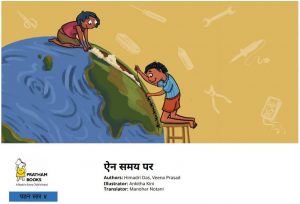 ऐन समय पर – A Stitch in Time Hindi: Broken Iron, damage shirt, and broken bikes. These are just some of the things people have that gets broken down in time. Rather than throwing them on the junkyard we need to learn how we can fix, reuse and recycle our things in order to reduce the waste we dump and help save mother earth.
Authors: Himadri Das, Veena Prasad, Illustrator: Ankitha Kini
Text and Images from Ne jetez plus, réparez !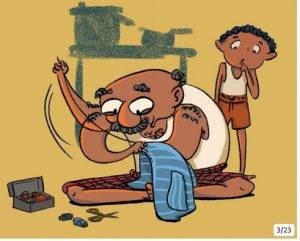 ख़रररर…
"अरेनह," याम बुका फाड़ रोता है।
उसक यारी कमीज़ क "सलाई उधड़ गई है।
"दादा जी, अब मइसेकभी नह पहन पाऊँगा!"
"बलकुल पहन सकोग, ल1लू," उसके दादा कहतेह।
"हम इसेअभी ठक कए देतेह।"
दादाजी एक सुई, नीलेरंग के धागेक एक रील लेतेह।
वह याम को दखातेहक कस तरह उधड़ी
सीवन को सीकर वापस जोड़ा जा सकता है-
एकदम पहलेजैसा।
<end of sample>
Read the full book by selecting one of the buttons below the post.
Read the English version using the above link.
See more Hindi stories below