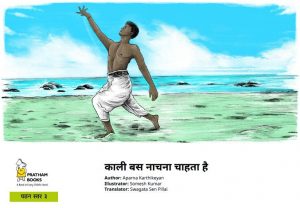 Hindi काली बस नाचना चाहता है – is the Hindi Story of Kali Wants to Dance, the Biography of Kali Veerapathiran who at the age of 25 became the only male dancer to have mastered the classical dance form Bharatanatyam, as well as three ancient Tamil folk dance forms.
He was featured in a documentary film, won many awards, and became famous in India through dancing. Kali is the founder of Koothambalam, a dance school in Kovalam.
But his path may have taken a different route if he did not strive for what his heart has dreamed of. His friends and family discourage him from dancing with sadly discriminatory attitudes towards boys dancing for a living and his family has no means of sending him to take a formal dance lesson.
But he has the talent and Sarah Chanda saw the burning desire and passion to dance deep within him, he has the makings of a classical dancer and the dedication and drive to overcome the prejudices of his community.
Author: Aparna Karthikeyan
Illustrator: Somesh Kumar
Translator: Swagata Sen Pillai
Text and Images from Hindi काली बस नाचना चाहता है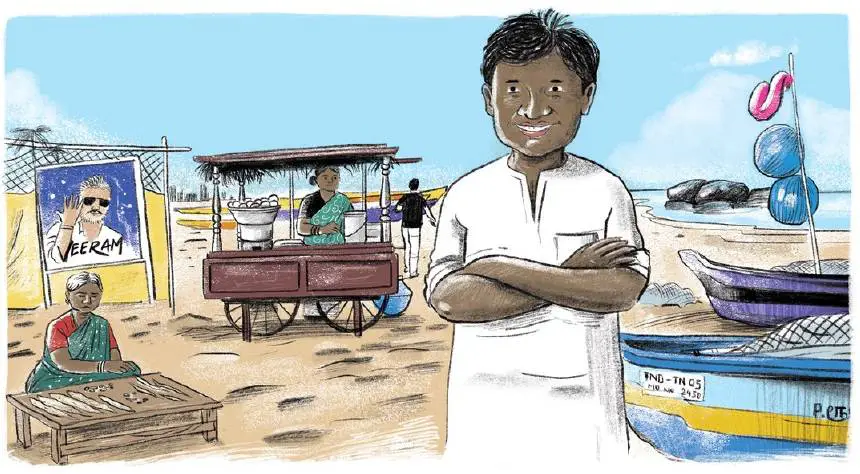 कोवलम के छोटे से मछुवारा गाँव म काली वीरपतरन मशर है।
इसलए नह क वह कोई नायक है।
इसलए भी नह क उसने बड़े बड़े बदमाश को हराया है।
वह मशर इसलए है क उसने नाचना सीखा।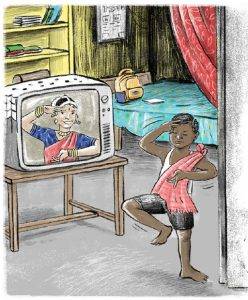 वष है २००४ और काली आठ साल का
है। बत से और लड़क क तरह, वह
भी कूल जाता है, दोत के साथ
खेलता है और टवी देखता है। मगर
और लड़क से हटके, काली नाचता भी है।
काली को टवी पर पनी का नृय
देखना बत पसंद है। वे एक स
नृयांगना और अभने ह। काली
उह क तरह घुंघ बांध कर
भरतनाम नाचने क कोशश करता है।
तरी धन झुनु धम तक धर कट तक तधगणतोम, तधगणतोम, तधगणतोम।
ऐसे नक़ल करके नाचते नाचते काली इतना अछा नाचने लगता है क उसके अयापक उससे वलय के कायम म नृय करने को कहते ह। कुछ ही समय म, उस छोटे से मछुवारा गाँव म काली भरतनाम नतक के नाम से स हो जाता है।
एक दन, साराह चंदा, जो क चेनई के एक अपताल क संचालका ह, उसे मंच पर नृय करते ए देखती ह।
धत तेयुम तत ता तेइ धत तेयुम तत ता तेइ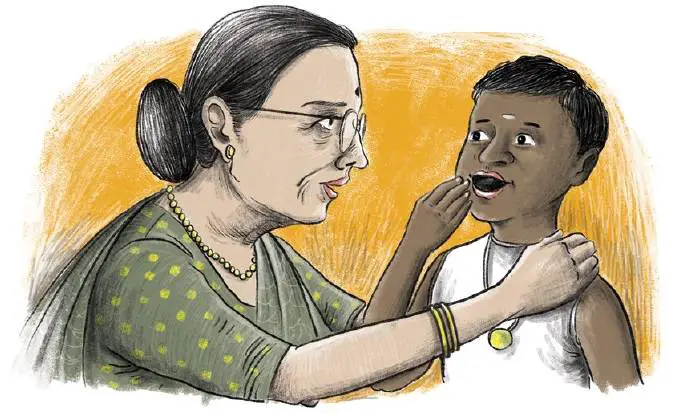 उसक तभा को देखकर साराह अवाक हो जाती ह। वे यह जानकर बत भावत होती ह क काली ने इतना सब खुद ही सीखा है। "या तुम कला म भरतनाम सीखना चाहोगे?" कायम के बाद वे उससे पूछती ह। काली पहले तो हंस पड़ता है। भरतनाम? दलत समुदाय से कसी को भरतनाम सीखने का अवसर बत कम ही त आ होगा और उसम पारंगत होने क बात तो बत र क है। काली के परवार म नृय क क के लए पैसे कभी जुट ही नह पाएंगे। और फर, लड़क का नृय को पेशा बनाते ए कसने सुना है! मगर साराह मज़ाक नह कर रही थ। "तुह भरतनाम क बाकायदा श लेनी चाहए काली," वे कहती ह। "तुहारी फस म भर गी।"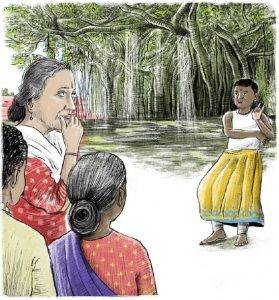 साराह उसे कला दखाने ले जाती
ह। कला देश भर का सबसे अछा
नृय और कला शण का क माना
जाता है और चेनई थत बत सारे
पेड़ से घरी ई एक सुदर जगह है।
कला संथान क मुख, लीला
सेमसन, जो वयं भी भारतनाम क
जानी मानी नृयांगना ह, काली से नृय
करने को कहती ह। काली बस नाचना चाहता है
काली अपनी पट के ऊपर से ही धोती
बांध कर एक फ़मी गीत पर नाचता
है। शक को उसे देखकर लगता है
क उसम नतक बनने के गण ह।
end of sample from  काली बस नाचना चाहता है
काली बस नाचना चाहता है English Version below:

Biography of Kali Veerapathiran
About Pratham Books
Pratham Books goes digital, FKB  is helping with their aim to get a book in every child's hand!
Storyweaver, their digital platform is provided to weave a whole new chapter in the realm of multilingual children's stories. Knitting together children, authors, illustrators and publishers. Folding in teachers, and translators. Creating a rich fabric of openly licensed multilingual stories for the children of India and the world. Their unique online platform, StoryWeaver, is a playground where children, parents, teachers and librarians can get creative, using the resources to make your own unique books online.
About Creative Commons
Content under Creative Commons licenses can be downloaded, translated and can even be used to create new stories ‐ provided you give appropriate credit, and indicate if changes were made. To know more about this, and the full terms of use and attribution, please visit the following.
See more books in Hindi below
See more books by Pratham's Storyweaver below
---
Sponsored Links:
Note – if you sign up through these links, it doesn't cost you any extra, but FKB receives a small donation, which helps us with our project to buy more FREE Hardcopies   for kids who need them

All our posts are checked by Grammarly, the FREE online grammar checker (We still receive a donation even if you only sign up for the free account :-):