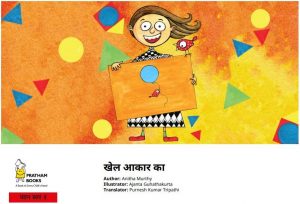 खेल आकार का – The Drawing Game Hindi – Jeenu is spending her summer holidays with Ajji. Having no one to play with she ask Ajji to play with her. Ajji then draws a circle, Jinnu felt she does not like the game they where playing until Ajji turns the shape into something else. This is an early Geometry books for young readers and students. The book also teaches readers how to draw using shapes and with lots of activities that will enhance kids creativity and imagination.
Author: Anitha Murthy, Illustrator: Ajanta Guhathakurta
Text and Images from खेल आकार का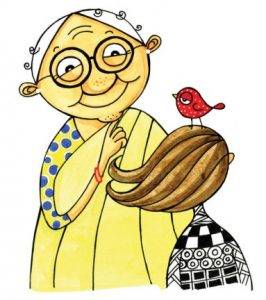 जीनूअपनी दाद के घर मगम क छुयाँबता रही है। वहाँ पर उसक कोई भी दो&त नह' है। वह ऊब रही है।
"अ*जी, मेरेसाथ खे.लए!" वह कहती है।
अ*जी कहती ह, "जाओ चाक का एक टुकड़ा लेआओ। चलो हम एक खेल खेलतेह।"
जीनूउ साहत है। अजी कौन सा खेल खेलगी? अ*जी एक आकार बनाती ह। "या तुम बता सकती हो, यह या है?" वह पूछती ह। "यह एक वृ है'" जीनूमुँह बनाकर उर देती ह। उसेयह बु सा खेल पसंद नह' ह।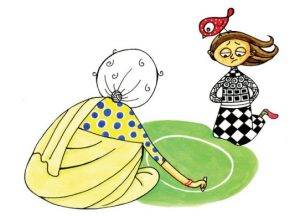 "हा, लेकन इसम कुछ और है, " अ*जी कहती ह। जीनूसोचती ह, उसके बाद मु कराती है। "यह ह सता Iआ चेहरा है!" वह कहती है।अ*जी ताली बजाती ह। "तु Jहखेल समझ म आ गया!"
<end of sample>
Read the full book by selecting one of the buttons below the post.
खेल आकार का English Version below:
Read this book in English here.
See more Hindi stories below