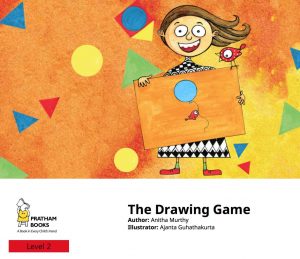 Jeenu is spending the summer holidays with her grandparents, and she's bored, Ajji suggests a game. Will it be a fun game? This geometry storybook with activities is a great way to combine reading and play.
Jeenu and Ajji are drawing circles, triangles and squares. Then they turn them into all sorts of things. This simple story introduces the concept of shapes to children and encourages them to use their imagination.
Author: Anitha Murthy
Illustrator: Ajanta Guhathakurta
Sample Text From The Drawing Game – ( geometry storybook with activities )
Jeenu is spending her summer holidays at her grandma's house. She has no friends here. She is bored.
"Play with me, Ajji!" she says.
Ajji says, "Go get a piece of chalk. Let's play a game."
Jeenu is excited. What game will Ajji play? Ajji draws a shape.
"Can you guess what this is?" she asks.
"It is a circle." Jeenu makes a face. She does not like this silly game.
"Yes, but it is also something more," says Ajji.
Jeenu thinks, then she smiles. "It is a smiley face!" she says.
Ajji claps. "You understood the game!"
<End of Page 3 of The Drawing Game>
Keep reading by selecting the read online or download buttons below the post.
This book was brought to us by Pratham's Storyweaver Platform, see more books like this one in our Pratham-Storyweaver category.
About Pratham, Read India
Pratham Books was set up in 2004, as part of the Read India movement, a nation-wide campaign to promote reading among children. Pratham Books is a not-for-profit organization that publishes quality books for children in multiple Indian languages.
Pratham's mission is to see "a book in every child's hand" and democratize the joy of reading.
Pratham's books are available now in digital form on the Storyweaver platform.
---
Sponsored Links:
Note – if you sign up through these links, it doesn't cost you any extra, but FKB receives a small donation, which helps us move towards our aim of
FREE Hardcopies!  
All our posts are checked by Grammarly, the FREE online grammar checker (We still receive a donation even if you only sign up for the free account :-):


This site is hosted by Bluehost:

Leave a comment (it won't be public) if you want help getting your own website cost-effectively.