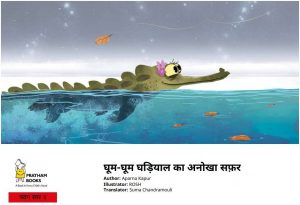 घूम-घूम घड़ियाल का अनोखा सफ़र – Ghum-Ghum Gharial's Glorious Adventure Hindi A young gharial is going to enter the waters for the very first time. She learns how to swim and enjoys the water. But apparently she got lost. Wanting to find her dad she then begun searching for her father and meets lots of animals along the way.
Author: Aparna Kapur, Illustrator: Rosh
Text and Images from घूम-घूम घड़ियाल का अनोखा सफ़र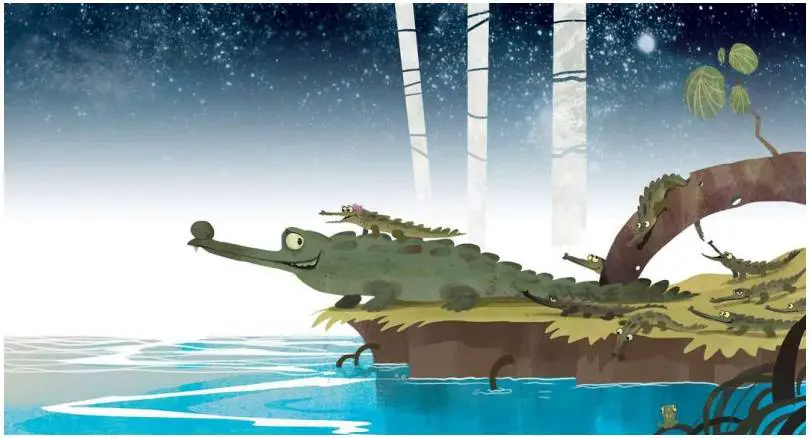 आज घूम-घूम बड़ेजोश म थी। वह पहली बार तैरनेजानेवाली थी।
आआआप. . . ऊऊऊऊंब क आवाज़ नकालतेए उसके प"रवार के सरेघड़याल& नेख़ुशी जताई।
घूम-घूम ने छलाँग लगाई तो पहले उसक नाक पानी से टकराई! और… वूश!! वह हर तरफ़ सेनद के पानी से$घर गई। घूम-घूम नेइधर-उधर पैर चलाए और पूँछ हलाई। "देखो पापा! मतैर रही ! देखो!!"
"पापा?" घूम-घूम नेआगेदेखा और पीछेदेखा। दाएँदेखा-बाएँदेखा। "पापा?"
उसनेख़ुद को अकेला पाया। प"रवार के सरेसदय उसेछोड़ कर आगे नकल गए थे।
<end of sample>
Read the full book by selecting the buttons below the post.
घूम-घूम घड़ियाल का अनोखा सफ़र English version below:
Read this book in English here.
See more Hindi stories below