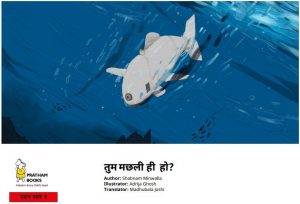 तुम मछली ही  हो? – Are You a Fish Hindi – STEM marine robots – This is an introduction to young readers about marine robotics. This book can be used as a science book for students in need of research material about how humans use science to observe, protect, and monitor the ocean and the animals living in it.
Author: Shabnam Minwalla, Illustrator: Adrija Ghosh
Text and Images from तुम मछली ही  हो?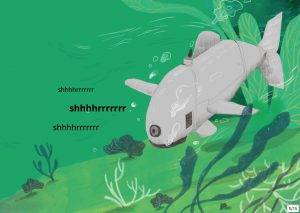 समु मकुछ अजीब सी मछ लया तैर रही ह।
वेसाधारण मछ लय जैसी ही लगती ह।
उह क! तरह "वहार भी करती ह। ले$कन वेधातु
और फ़ोम, कपड़ेऔर ,ला-.टक सेबनी ह।
रोबो ट यूना सरी ट यूना मछ लय क! तरह ब3त तेज़ी सेऔर बत
र तक तैरती है।
लेकन यह पानी के अंदर काम करनेवाली सपाही भी ह।
यह समु मत.कर और समु डाकु9 का पीछा करती है।
सोफ़ एक नमरोबोट है जसके गलफड़ेऔर पू छ ह।
यह समु क! तलहट पर जीव और वन.प$तय के वीडयो बनाती ह।
मछ लया उससेडरती नह ह, उसकेसाथ तैरती ह।
<end of sample>
Read the full book by selecting one of the buttons below the post.
तुम मछली ही  हो? English version below:
Read this book in English by selecting the above link.
See more books in Hindi below