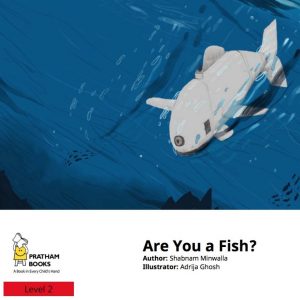 Are you a Fish is a STEM level 2 ebook from Pratham about robot fish, a perfect book for early elementary school science to introduce children to the amazing world of marine robots. This book can be a stepping stone into a research project on the different types of marine robots available.
Sample Pages from Are You A Fish – An early elementary book about Robot fish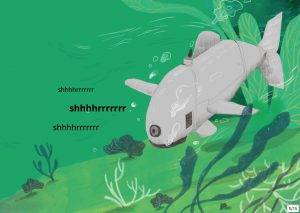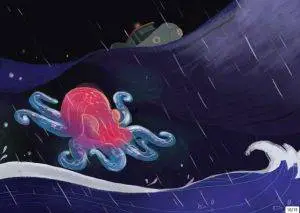 The book features the following Robots:
RoboTuna – a robotic fish with the shape and function of the real tuna fish, which was designed and built by a team of scientists at the Massachusetts Institute of Technology (MIT). It has a complicated system of stainless-steel cables and pulleys which act as muscles and tendons. The outer body is composed of a flexible layer of foam covered with Lycra, an elastic polyurethane fiber, to emulate the flexibility and smoothness of tuna skin. It is controlled by six powerful servomotors at two horse-power each. It can adjust its motions in real-time because of force sensors positioned on the side of the ribs which provide continuous feedback to the robot.
Sofi -A soft acoustically controlled robot also from MIT, which has improved the advanced marine research operations using robotic fish.
"SoFi has the potential to be a new type of tool for ocean exploration and to open up new avenues for uncovering the mysteries of marine life," Cline notes. Sarah Toy of The Wall Street Journal writes that CSAIL researchers have developed a soft robotic fish that can capture images and video of aquatic life
Jellyfish robot – New robot jellyfish could be the key to monitoring and caring for fragile parts of the world's oceans without damaging them. The robots were developed by a team of US scientists, from Florida Atlantic University (FAU) and the US Office of Naval Research. They were designed to be able to swim freely, steer from side to side, and swim through narrow openings.
Robot Eel – Engineers and marine biologists from the University of California, San Diego, have created an eel robot that's designed to swim silently through saltwater — using the same rhythmic, ribbon-like motions as its natural counterpart.
Octobot – From Havard University researchers, is a proof of concept for the first fully soft-bodied autonomous robot. This soft-bodied autonomous robot is shaped like a small octopus, which helps give it its name. The Octobot uses hydrogen peroxide as its main power source and also contains a microfluidic logic circuit.
See more STEM books in our Science Category.
Siyavula provides an amazingly comprehensive, beautifully presented set of free maths and science textbooks, based on the South African school syllabus. The maths and science textbooks contain around 500+ pages, and cover all learning content for each year, with worked examples, practice questions, sample papers, linked videos, and many books also provide a separate teacher …
In Sailing Ships and Sinking Spoons – lessons in buoyancy, Tenzin and Tashi, two young Tibetan monks, and Genla, the beloved storyteller of the monastery, wonder why a small steel spoon sinks in water but a huge ship floats. Their science teacher Miss Sonam helps them experiment with an apple, a spoon and a tub-full …
Physics is a little book with lots of big facts about physics. This book covers the basic principles of physics and makes a nice introduction to physics for early grades in science disciplines, and a good lead into school projects by introducing some of the facts of physics. Sample Text from Physics What is Physics? …
An amusing tale that helps us find out where metal comes from. This is another royalty free work from Tony J Moon.

Space Puzzles Book 1 – fun activities for kids from NASA
A space puzzles book for children interested in space. This activity book contains interesting facts about space flight along with activities to match.
The book includes a maths puzzle, unscramble national parks, find words, match parts of the space station, and spot the difference.
Find more books about marine life in our Marine Life category.
See more non-fiction books in our Non-fiction category.
---
Sponsored Links:
Note – if you sign up through these links, it doesn't cost you any extra, but FKB receives a small donation, which helps us move towards our aim of
FREE Hardcopies!  
All our posts are checked by Grammarly, the FREE online grammar checker (We still receive a donation even if you only sign up for the free account :-):


This site is hosted by Bluehost:

Leave a comment (it won't be public) if you want help getting your own website cost-effectively.