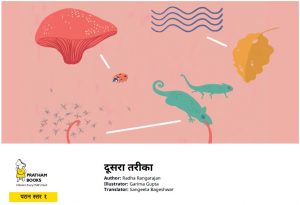 Hindi दूसरा तरीका is a Hindi version of The Other Way – book of opposites. This is perfect for early young readers to discover and learn new words along with the opposite of those words. Here are some of the words that will be given to them in Hindi. ऊपर  नीचे, भारी ह􀀔क􀀕, पहले  बाद, and more.
This is a level 1 Hindi book suited for early young readers who want to start reading. The book will introduce a few to moderate amounts of words often in a rhyming way accompanied by wonderful and colourful pictures that illustrate what is being said in the story.
दूसरा तरीका (Hindi), translated by Sangeeta Bageshwar, based on original story The Other Way (English), written by
Radha Rangarajan, illustrated by Garima Gupta, supported by Oracle, published by Pratham Books (© Pratham Books, 2018) under a CC BY 4.0 license on StoryWeaver. Read, create and translate stories for free on www.storyweaver.org.in
Text and Sample Images from दूसरा तरीका – A Hindi Story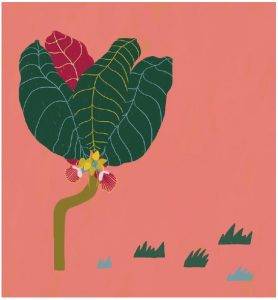 ल􀀊बा जैसे पेड़।
नाटा जैसे घास।
ऊपर आकाश म􀀒 एक बादल है।
नीचे माट􀀙 म􀀒 एक क􀀒 चुआ है।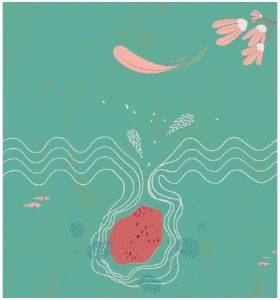 भारी जैसे च􀀝ान
ह􀀔क􀀕 जैसे पंखुड़ी।
ऊपर प􀀣े के एक झांझा है।
नीचे प􀀣े के एक 􀀥ाध
पतंगा है।
􀀪गलहरी सा फुत􀀘ला।
घ􀀬घे सा धीमा।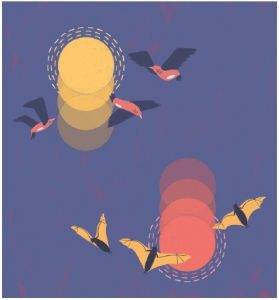 सवेरे से पहले प􀀯ी आए।
शाम के बाद चमगादड़
आए।
<end of story – The Other Way, opposites in Hindi>
To read this story in English, see the link below.

The Other Way – A book of opposites, English story
About Pratham, Read India
Pratham Books was set up in 2004, as part of the Read India movement, a nation-wide campaign to promote reading among children. Pratham Books is a not-for-profit organization that publishes quality books for children in multiple Indian languages. Pratham's mission is to see "a book in every child's hand" and democratize the joy of reading.
Pratham's books are available now in digital form on the Storyweaver platform.
See more books in Hindi below
---
Sponsored Links:
Note – if you sign up through these links, it doesn't cost you any extra, but FKB receives a small donation, which helps us move towards our aim of
FREE Hardcopies!  
All our posts are checked by Grammarly, the FREE online grammar checker (We still receive a donation even if you only sign up for the free account :-):