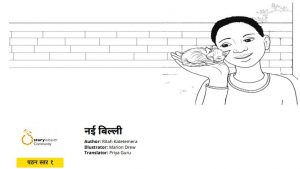 नई बिल्ली – New Pussy Cat Hindi – In this story, one family wanted to have a new cat, but what they find was something that is not suited for them, for one of the cats where either too big or too small and the other one was just too fast. Until finally they find the right cat. A colouring book with a cute story. This is a level 1 Hindi book from Pratham's Storyweaver licensed under creative commons.
Author: Ritah Katetemera, Illustrator: Marion Drew
Text and Images from नई बिल्ली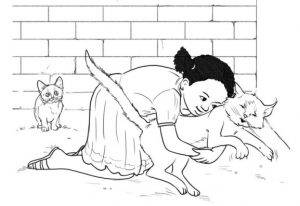 सी एक ब ली पालना चाहती थी।
सी का परवार ब लय सेमलनेगया।
सी को यही ब ली चाहती थी ।
यह उसके लए वह ब त बडी थी।
"टम इस ब ली के बचेको चाहता था।
यह उसके लए ब त छोटा था।
मा यह ब ली का बचा चाहता था।
लेकन यह उसके लए ब त तेज़ थी।
<end of sample>
Read the full book by selecting one of the buttons below the post.
नई बिल्ली English versionn below:
Read this book in English here.
See more books in Hindi below