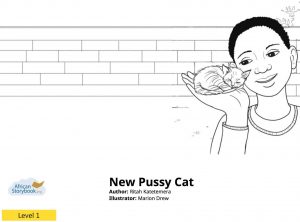 In New Pussy Cat a family is looking for a new cat, one is too big, one is too small, one is too fast. Then they find one which is just right. This book can be coloured in too.
Author: Ritah Katetemera, Illustrator: Marion Drew
Sample Text from New Pussy Cat – Looking for a new cat
Prosy wanted a pussy cat.
Prosy's family went to visit the pussy cats.
Prosy wanted this cat.
It was too big for her.
<End of sample>
Read the full book by selecting one of the buttons below the post.
This book was brought to us by African Storybook
See more similar books below.