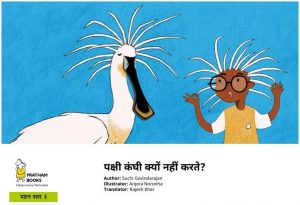 पक्षी कंघी क्यों नहीं करते? – Why Don't Birds Comb Their Hair? Hindi – A factual book about birds that can be used as research materials for grade school students and a perfect book to introduce birds to young readers and how to identify the birds mentioned in this book.
Author: Suchi Govindarajan, Illustrator: Anjora Noronha
Text and Images from पक्षी कंघी क्यों नहीं करते?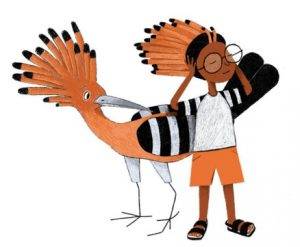 बुलबुल अपनेरोम कंघी य नह करते?
येआती ई छोट सी लहर-सेदखतेह"।
अगर मेरेबाल बुलबुल के जैसेहोतेतो म"
लप लगाकर उहदबाकर रखता।
दद अपनेरोम क, कंघी य नह करत?
ये-कसी झालरदार पंखेक, तरह दखतेह"।
यद मेरेबाल दद के जैसेहोतेतो म"एक हेयर-ब"ड से
उनको पीछेखचकर रखता।
<end of sample>
Read the full book by selecting one of the buttons below the post.
पक्षी कंघी क्यों नहीं करते? English version below:
Read this book in English here.
See more books in Hindi below