मंच का डर – Stage Fright Hindi – Champ loves to sing, every time she sings she feels marvelous. Her bestfriend Basant told her to sing during the annual day. But Champa was scared to sing in front of many people, and she almost fainted in fear when she sang on a stage once. But she loves to sing even though the thought fills her stomach with butterflies she wanted to try and practiced really hard.
Author: Yamini Vijayan, Illustrator: Somesh Kumar
Text and Images from मंच का डर – Stage Fright Hindi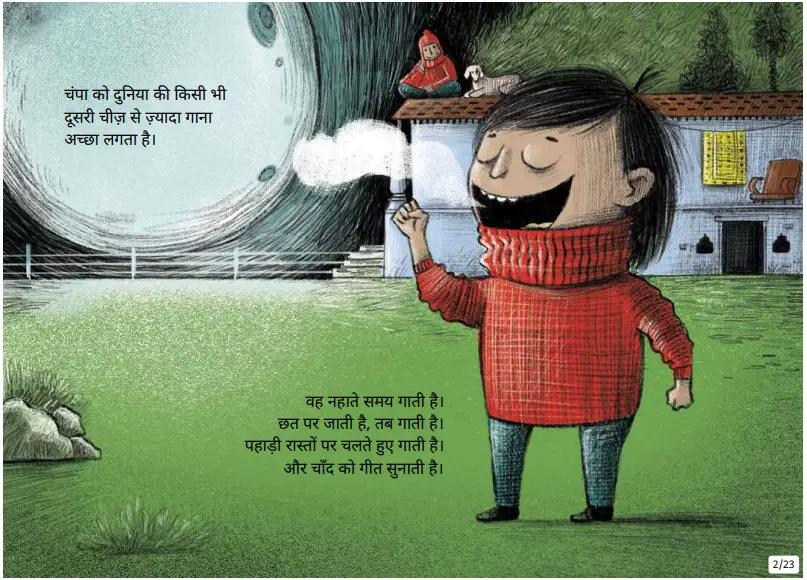 वह शेर जैसी बुलंद आवाज़ म.गाती ह। मधुम0खी-सा गनु गन  ती ह। बा3रश क 3रम4झम फ़7हार म.गाती है।
चल8चलाती गम म.सुर सजाती ह।
जब चंपा गाती है, तब उसक आवाज़ उसके मन म.एक सुखद भाव जगाती है।
एक ;दन जब चंपा गाती ह, तब बसंत कआँख म.चमक आ जाती ह।
"मुझेएक बत ही ब;ढ़या बात सूझी ह!" वह कहता है।
<end of sample>
मंच का डर English Version below:
Champ loves singing, she sings everywhere, well almost everywhere, she doesn't yet sing in front of anyone. When her friend suggests she sing at the annual day a new problem arises, how to get over stage fright.