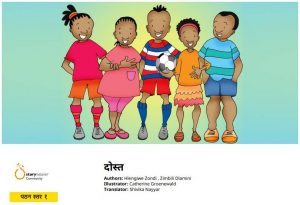 मेरे दोस्त – Friends Hindi – Simo has lots of friends and everyone loves different things to do. One loves playing football the other loves swimming and the other loves playing hide and seek. No matter what one likes they all enjoy doing all these things together.
Authors: Hlengiwe Zondi , Zimbili Dlamini, Illustrator: Catherine Groenewald
Text and Images from मेरे दोस्त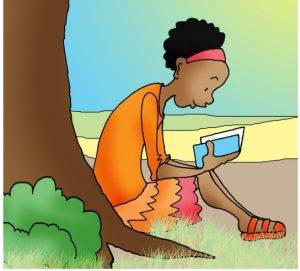 मेरा नाम समो ह।
मेरेचार दोत ह।
उनके नाम ह, ज़ज़ो, लेले, ससा और आयानदा।
मेरी दोत ज़ज़ो को सो"कर खेलना पसंद है।
मेरी दोत लेलेको तैरना पसंद है।
मेरेदोत ससा को लुकका-छ,पी खेलना पसंद लगता है।
मेरी दोत आयानदा को.कताब पढ़ना पसंद है।
<end of sample>
Read the full book by selecting one of the buttons below the post.
मेरे दोस्त English Version below
Read this book in English here.
See more Hindi Stories below