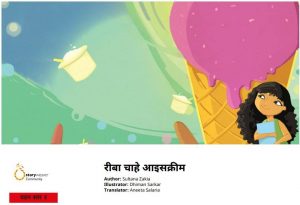 रीबा चाहे आइसक्रीम – Reba Wants Ice Cream Hindi – In this story Reba went to buy a new notebook and soap. She needs the notebook to finish her homework so her Mama would give her ice cream. But Rabi noticed that the shop keeper gave her more than her change. What would you do if it was you? This is a level 2 Hindi book about honesty.
Author: Sultana Zakia, Illustrator: Dhiman Sarkar
Text and Images from रीबा चाहे आइसक्रीम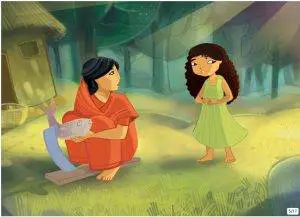 "आइस म आइस म"
फेरीवालेनेआवाज़ लगाई।
"मा मा मुझेआइस म चाहए" रीबा नेदौड़कर जाकर मा से
कहा। "अपना होमवक ख़तम करो पहले"मा बोली।
रीबा नाखुश लग रही थी।
"या तुमनेहोमवक ख़तम कया ?"मा नेपूछा।
"ह0म … नह2 पर मेरी कॉपी ख़तम हो गई है, मुझेनई खरीदनी होगी।"
<end of sample>
Read the full book by selecting one of the buttons below the post.
रीबा चाहे आइसक्रीम English version below:
Read this book in English by the above link.
See more Hindi Stories below