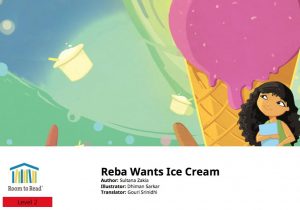 Reba badly wants ice cream, but her mum tells her to finish her homework first. She needs a new notepad and her mum sends her to the shop. The shop keeper gives her too much change. What does she do? Wind out in this short story about being honest.
Sample Text from Reba Wants Ice Cream
"Ice cream! Ice cream!" The shopkeeper called.
Reba ran to her mother.
"Ma! Ma! I want ice cream!"
"Finish your homework first," said Ma.
Reba looked unhappy. Ma asked, "Are you done with your homework yet?"
"Mmm…No. But my notebook is full! I need to buy another one."
<End of sample>
Read the full book by selecting one of the buttons below the post.
This book was brought to us by Room to Read.
See more books by Room to Read below: