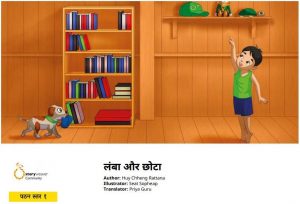 लंबा और छोटा – Tall or Short Hindi In this story a boy compares the height of his family. He was able to identify who was the tallest and the shortest and arrange everyone from tallest to shortest and vice versa. This is a good book to read to introduce your little ones about height and size comparison.
Author: Huy Chheng Rattana, Illustrator: Seat Sopheap
Text and Images from लंबा और छोटा – Tall or Short Hindi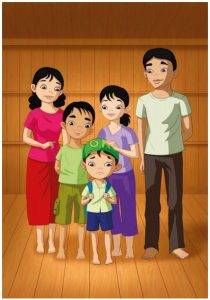 पताजी मेरी टोपी नकाल रहेह.
पताजी बत लंबे ह.
मामेरी कमीज़ नकाल रह है.
पताजी मा सेऊ चेह.
मेरी दद मेरी कताब नकाल रही है.
ममी मेरी बहन सेलंबी है.
<end of sample>
Read the full book by selecting one of the buttons below the post.
लंबा और छोटा English version below:
Read this book in English on the above link.
See more Hindi stories below