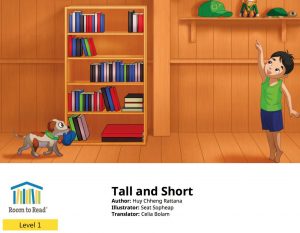 In Tall or Short the main character compares himself to members of his family and indicates whether they are taller or shorter. This book has lots of repitition making it a good choice for early readers.
Sample Text from Tall or Short
Pa is getting my hat.
Pa is tall.
Ma is getting my shirt.
Pa is taller than Ma.
My sister is getting my book.
Ma is taller than my sister.
<End of sample>
Read the full book by selecting one of the buttons below the post.
This book was brought to us by Room to Read.
See more books from Room to Read below.