विचार कहाँ जाते हैं? – Where Do My Thoughts Go? Hindi: In this story a child wonders where her thought go. The child thinks of creative and imaginative answers to her question. This book is perfect for little children and early grades to fuel their creativity and encourage them to read.
Author: Sherein Bansal, Illustrator: Priyanka Kumar
Text and Images from विचार कहाँ जाते हैं?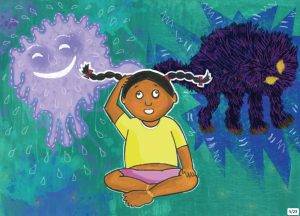 मेरे वचार कहा चलेजातेह?
जब वेचलतेह तो धम-धम करते ह
या छम-छम करतेह?
पंखेकेसाथ चकर!घनी क तरह च'कर काटकर
उनका सर चक-चकर-चकरा जाता है'या?
'या वेकागज़ी जहाज़ पर सवार होकर बादल से
खेलने नकल पड़तेह?
<end of sample>
Read the full book by selecting one of the buttons below the posts.
विचार कहाँ जाते हैं? English Version below:
Read this book in English here.
See more books in Hindi below